The tools to manage your social networks are Plenty. Depending on the size of the company and its digital maturity, it is more or less necessary to use certain tools.
In this article, we share some Social Media Tools that easily complement and will allow a company to manage its presence on social media :
(Social Media Tools : The Ultimate List (80 Free and Paid Tools).
Here's a list of free and paid practical tools.I do not use them all personally, but you never know when one of them may be useful in a particular case. some of them are trusted and used by some successful online marketers.
These tools are categorized by :
Tools to share,engage,analyse and measure social media networks
Tools to create images for social media
Contest on social networks Tools
Bonus Tools
Well today I'm going to compile for your a number of Free and Paid Social media Tools, that may save you ton of time .
You just need carve out a few time of your day and tackle one of these tools below.
Related Topic : Reliable email marketing services for startups
Social media tools for marketing : The Ultimate List
1. TOOLS TO share, ENGAGE, ANALYZE AND MONITOR SOCIAL NETWORKS
Vistasocial : Vistasocial is a social media management tool that will allow you to find, collaborate, and plan posts for all your social channels. Visually organize and preview your social media content.

Make relationships with your followers, and efficiently manage your social media notifications, comments, and thoughts in one spot.

Measure and report on the execution of your social media actions. Design and customize easy, actionable reports that indicate what's working and what isn't.
Try Vistasocial Today.
TweetDeck : With a clean and responsive interface, real-time access to streaming Twitter queries, basic filtering (for shared/favorites posts, multimedia, etc), and the ability to engage with streams and posts quickly,
Tweetdeck is what makes it one of the best Twitter management tools - especially if you're an agency with not much budget, or just a 'one man band' startup
If you're considering using TweetDeck, make sure you have your analytics tools covered from another service. TweetDeck is a great free tool to manage social accounts and schedule posts.
Buffer: Many managers use Buffer community to share content on social networks. The tool allows to plan your shares and the post in a specific scheduled time. This saves valuable time by preparing in an instant more shares on one or more social networks.Easy to use by installing the Chrome extension.
SocialPilot: In free version, you can connect 3 accounts. Twitter, Facebook (profile page) and LinkedIn (profile, page, group) are supported. For each connected account, you specify the triggers of your choice.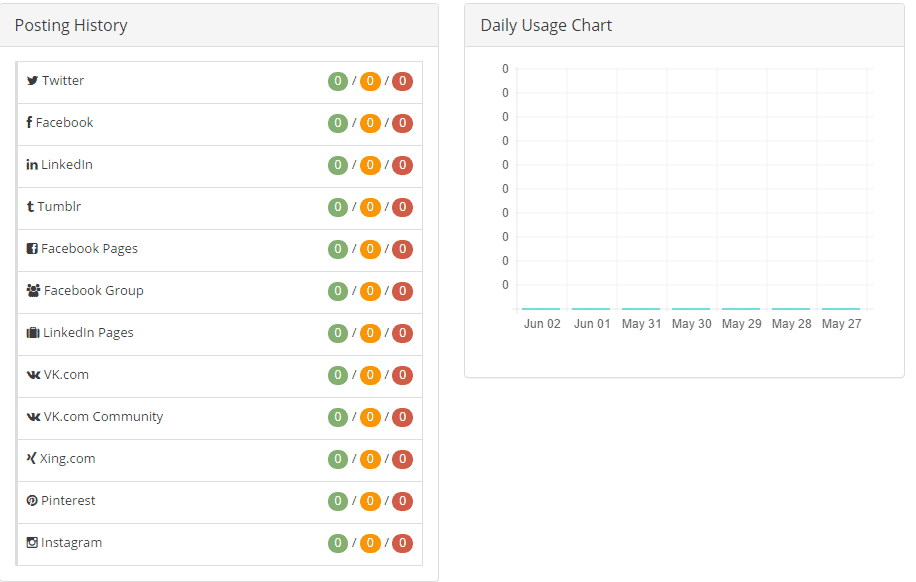 For example, if you choose "every day at 15h and 16h" two shares will be made at selected hours. You can specify different triggers for each day of the week if you want, even in free version.
Obviously you can choose different rates for each social network connected.A good alternative to Buffer with very affordable prices
Planable is the command center of social media campaigns, it helps you visually preview all of your social media content in one single place, receive and implement feedback, get approval and then easily schedule creative posts to Facebook, Twitter, Instagram and LinkedIn.
With Planable's real-time feedback and editing feature, you'll never have to stress over misunderstandings or long email threads again.
Planable., One place to create and approve social media content
Social Aider : Social Aider is an affordable social media scheduling tool which gives you the luxury of time by letting you schedule your posts for days, weeks and months (depends on you, entirely).It supports Facebook (accounts and pages), Twitter, LinkedIn and Tumblr and comes with all the features like RSS feed, Bulk upload and Multimedia support.
Additionally, you can Repost old posts, Edit and Delete scheduled posts. Moreover, it supports Time-Zone scheduling, meaning you can adhere to your globally targeted audience according to their time.
Another feature specifically lets you edit your Twitter post (according to the word limit) while scheduling simultaneously on other accounts. While scheduling RSS feed, you have a dedicated space to enter hashtags and mentions.
The best thing though, is that you can add an unlimited number of social media accounts to Social Aider for free! You're charged based on the number of posts you upload and not on the number of accounts you add. Social Aider's smallest plan costs $4.99/300 posts/month while the largest costs $11.85/1000 posts/month. A custom plan can also be formed to match your exact needs.
It comes with a one-year free trial inclusive of all the features!
DayTweet: Day tweet is a very simple tool: a simple Twitter Sign-In allows you to access interface. Then you only have two things : the content of your tweet and set its life (from 5 minutes to one week). The tool then publishes your tweet and delete it automatically once it is expired .
The tool then determines three hours during which your performance is the best. To enable statistics, you must use the URL shortener to automate Twib.in.-sharing articles on Twitter (easy to customize, with image ...).
Tall Tweets: To use Tall Tweets, a Twitter Sign-In is enough. Then, a simple field appears, allowing you to write a long message if you wish. Creator Studio turns your Google Slides presentation into GIFs and Videos.
Two options are available to you to get around the rule 140 characters: tweet the message several times or turn the message into image.
You can publish mini-essays, paste Word documents, press releases and more.
Repost (Android, iOS): an indispensable app for "repost" as Facebook and Twitter and give credits to original instagramer
TakeOff : iOS app to schedule sharing photos on Instagram. But limited by the API. It's great with photo adding to tweets and smart scheduling based on # of tweets you want daily.
Later: To Schedule and manage your Instagram posts for multiple Instagram accounts. Plan, explore, and broadcast your content in a few clicks — so you can preserve time and increase your business.
Hootsuite : This tool allows to share content on social networks: Twitter, Facebook, Google+, Instagram, LinkedIn ..
Hootsuite allows you to aggregate multiple social media streams from one interface. It's easy to use and the Chrome browser add-on enables the share of pertinent data with your social media fan base quickly and easily
Hootsuite is compatible with the following social networks:
Twitter
Facebook: profile page and group
Google+: page
LinkedIn: profile, group and business
Foursquare
Mixi
There is not much to consider in making a decision to use this. The best part of it is it really is a very useful tool even if you are only using the free version. Start there and then upgrade when more functionality is needed.
Slacksocial.com - SlackSocial is a free social media management tool. It's one stop solution for managing all your social networks and profiles
Postplanner: Postplanner is a useful application to find relevant content based on certain keywords that you define to increase social media engagement on Facebook & Twitter.One can also discover viral pictures right now, just to share with your community!
AgoraPulse: AgoraPulse is an affordable solution for nonprofits and small businesses looking to up their social media game.
The flexibility of the month to month subscription payment plan and the good rate will you to explore what kinds of features are most beneficial to your marketing plan and future campaigns.
we can say that if you are trying to increase brand awareness in Social media by scheduling your online social strategy and you want to monitor for mentions this is the tool for you.
It offers a unique solution addressing three issues :
The animation of Facebook pages dedicated applications
Performance measurement
Moderation messages and qualification of fans
Agorapulse offers a free tool to test for 30 days. Then you have the choice between 4 formulas: $29 monthly for 1 profile and up to 6000 fans, $49 for 3 profiles pages and 30 000 fans, $99 for 10 profiles and up to 100 000 ,last is 199 for 20 profiles.
To engage the community on networks, it is not enough to publish, schedule publications, it is a matter create discussions: AgoraPulse is the perfect tool for that! In fact, all your usual notifications are grouped in a single screen in the form of discussions.
Highly recommended for busy social media managers.
Sprout Social: A great tool to manage social media, It's by far one of the best-looking and user-friendliest dashboard, and it offers quality reporting tools that others either do not have or charge a fortune for.
It makes managing multiple platforms simple by allowing you to schedule, post, and follow-up on users. It also creates an ability to find new users and search by topics so you can find new followers/topics to keep up with.
Facebook Pages Manager: It's obviously convenient to use from your Facebook page since it's built right in. It's important to be able to schedule and post your Facebook stuff for your business quickly and easily.
Sendible : It is really easy to schedule posts to my multiple groups and pages on Facebook.If you are looking for a platform to handle all of your social media concerns, especially for those managing a number of social media accounts for clients, Sendible is the way to go.
The calendar option provides a great visual way of making sure your posts are consistent and lists make posting to multiple platforms a breeze.
Nuvi : Nuvi helps to bring real-time conversations to life. Great product for events and organizations. Definitely something you can help use to build your online community and fan engagement even more.Nuvi is highly recommended using NUVI for any social listening, social monitoring or social anayltics.
Cision: This is a great solution for teams that have various roles and responsibilities in regards to social media marketing. Extremely easy to set up and is very intuitive and enables users to manage monitoring and publishing across multiple platforms as well as provide the analytics needed to measure ROI
NetBase : Netbase is a strong all round social listening tool. It allows a large degree of qualitative and quantitative analysis, as well as allowing you to track conversations on owned media (FB pages). This tool is worth the cost if you'll be using to derive insights for social strategies, audience profiling, content calendars, and new business pitches.
Mention : can monitor keywords on the Internet and social networks; sort of like Google Alerts improved.The first step is to create an alert. Several options are to determine:
The name of the alert
The monitored keywords
Languages monitored
The monitored countries
Mention is a great tool for monitoring, with a clear and easy setup process, great support and a fair price for it's features and value.
Mention helps you build reports and statistics based on tweets, facebook posts, and news articles written about your company or Blog . You can respond to tweets in real-time and keep track of reviews of services and of what your audience are saying in the public realm
Manage Flitter : This tool is 100% dedicated to Twitter. It's complete monitoring tool and followers of community management of your or your Twitter accounts. ManageFlitter will allow you to sort and regularly clean the base of your Twitter followers.
Tracx : A good tool that Provides a powerful social media management system that enables you to analyze, measure, engage and monetize the social web.Tracx is a very user friendly product, has a nice interface and it is easy to use
Alerti: Alerti allows you to follow what is said about you on the web,measure the engagement of your communities and interact with your communities.
Also, you can collect and process information through a single interface:Collect all the information published on the web (blogs, online press, forums, networks, images, videos ...), filter and analyze the collected results,share your alerts and process results in collaborative mode and generate reports and graphs.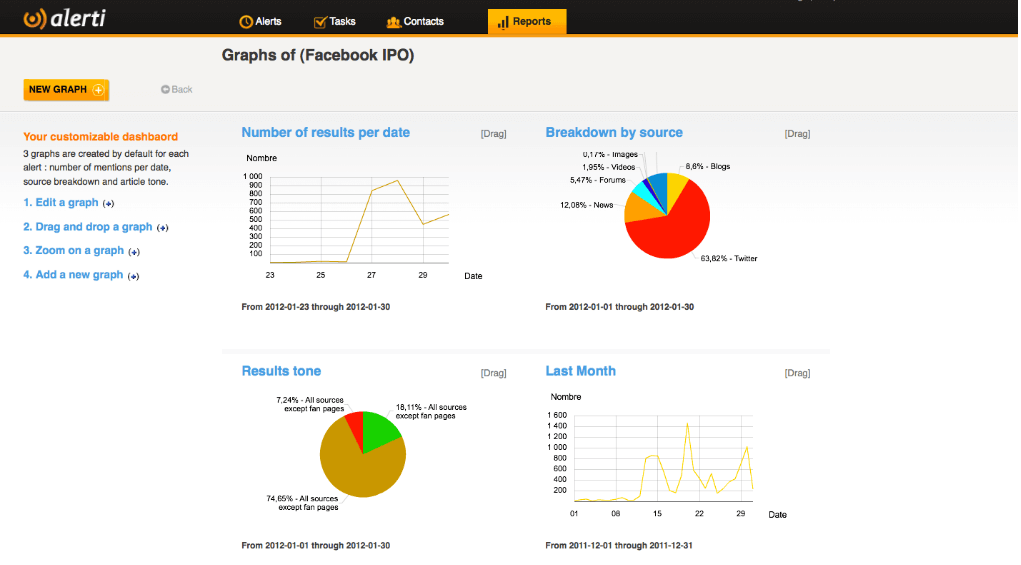 Related:
Trends24: to monitor all trending topics.Keep track of the latest Twitter trending topics throughout the day locally and globally. With timeline view, watch trending topics history for every hour of last 24 hours.
Geofeedia: Geofeedia picks up social media (mostly Twitter and Instagram, today) in specific locations without an app which makes it more powerful, perhaps than any other form of Geo social search.
Also, from an ethnographic perspective, you really find the insights you have gleamed via curating the Geofeedia Geofeeds to be superior to anything that other platforms in the Social Analytics space currently provide.
Cur.to: This free tool allows monitoring a hashtag easily for major social networks, except that Google+ does not seem supported. cur.to is social network aggregator based on topics.
Just enter cur.to/topic to follow, in real time, what is published on social networks with the hashtag corresponding to the topic
Evalue analytics Pro is a powerful tool to measure the performance on social networks. Three services are supported: Facebook, Twitter and YouTube.
Many performance indicators (KPIs) are available and you do not have to be a director of a page or account for these data; very convenient for a benchmark.
The service offers a free version, less complete. However, you can test the full service free for 14. It is a perfect Real-time social media analytics & benchmarking for the modern marketer.
Conosquare: one of the best tools to obtain statistics on Instagram.With more than 11M members, Iconosquare is great for showing interaction with your posts and imagery.
It's a really helpful tool for predicting the timing of posts to mesh with your target audiences, helping you to maximize your user-engagement.
Everypost : A good social media publishing tool /App most acclaimed by content professionals and social marketers. Everypost is the easiest way to create, customize, schedule and post content to Facebook, Twitter, Google+, Flickr, Linkedin, tumblr, and many others social networks.
Bundle Post : This tool will allow you to curate, attribute, and post relevant content across global timezones, which also frees you up to engage in real-time. Instead of posting your keyords Bundle post will use hashtags for better engagments
Twitonomy: A good web service to obtain comprehensive statistics on any Twitter account. The tool adds new features every now and then. Simply,a powerful Twitter analytics platform that will enable you to see trends of users, hashtags, keywords etc.
Brand24 : One of the best tool for monitoring and analyzing a buzz around any brand across the web and social media.It collects information not only from your social media accounts and not only when someone tags you - it actually monitors any mention about your content .
Meet Edgar: Using an ever-growing library, update categories, and scheduling, Edgar helps your social media updates, as well as any content to which they may link, get the attention they deserve.
FollowerWonk: get stats on Twitter, search the bios of users …. It is a free that is developed by Moz , Great to Dig deeper into Twitter analytics: Who are your followers? Where are they located? When do they tweet?
SimplyMeasured: a statistics tool for Twitter, Facebook, Instagram, Vine, LinkedIn .SimplyMeasured is by far one the best aggregator of raw data for social content metrics. It displays a great visualization that makes reporting and sharing progress very easy and accurate.The best part is that you can download the reports and excel spreadsheets and change them to your needs.
SocialBro: (Now Audience) ,SocialBro is a very easy to use solution for monitoring client Twitter profiles .
The offerings are broken up into three areas: Listening & Insights, Social Marketing and Twitter Advertising.Whether you are an individual trying to build your personal brand,
Or you are represnting a company or you are an entrepreneur trying to reach the right audience for your business, Twitter is a must have tool nowadays and SocialBro is one of the coolest Twitter tool out here.
SocialRank: A great, visual product to help you see who your social followers are on Twitter and Instagram that affords you the ability to narrow down based on your data points. Statistics related to account activity and generated commitment are also available.
Riffle: to quickly analyze a Twitter account (retweets / tweets, frequency of publication ...) .
This is a Chrome extension that lets you know at a glance at the statistics for a Twitter account and some interesting information with access to different information (you can also search Twitter account directly from Riffle)
Tweet Binder: achieve reporting, get statistics and identify influencers on Twitter.
Tweet Binder offers several graphics to better identify the commitment of those who contributed to the visibility of your campaign.
You can visualize the distribution of contributors by number of tweets sent (number of people tweeted ). Charts provide approach to estimate the influence of contributors (depending on the number of followers).
BuzzSumo: BuzzSumo offers two main entrances. The first to enter a keyword or domain name,the site will then provide you the most popular items that match your search.
By default, it will be those accumulating more shares, but you can sort on one social network.
The second entry is for influencers.
You can, in the same way, look for a keyword or domain name and see the most relevant people on this topic.
A great Tool to Understand which content performs the best on social media and understand the attributes of that content that perform best (length, day posted, article type). Additionally, see who is sharing your content, what else they share, who they interact with
Keyhole: Keyhole is a real-time hashtag tracker for Twitter, Instagram and Facebook
Minter: a paid but effective tool to analyze its performance on Instagram.You can Try Free before you jump to Pro version.Understand Your Audience. Measure your audience growth. Find out who are your new followers and who unfollowed you
2. Create images for social networks
Pablo: One of the simplest way to create beautiful images that fit every social network perfectly.Create images with the perfect size and format for Twitter, Facebook, Instagram, and even Pinterest.
Pablo is created by Buffer as of the best way to share great content to Twitter, Facebook and LinkedIn from anywhere on the web, with just one click. Easily publish your updates on Twitter, Facebook, LinkedIn, Google+ and more
Canva: Canva is by far one of the easiest platforms to create high quality art, without requiring advanced knowledge of graphic design.
It has preset image sizes that will be your go-to resource for quickly getting an image for your social media post.Canva can make your social media content start from a higher baseline than creating it on your own. They create and update constantly in their presets.
Layout: iOS / Android application for creating montages for Instagram.
Quick: application to write on photos before sharing them on social networks. Perfect for busy people who tell, sell, buy, share, organize, memorize, and more.
Word Swag: The same principle as Quick this app allows you to write on photos before sharing them.
ViralTag : ViralTag is the leading expert in managing your images on social networks. ViralTag lets you find, optimize and program the publication of images on the major networks.
It works with Facebook, Twitter, Pinterest, Tumblr and LinkedIn. You can also connect with your Flickr account or Canva. It lacks statistical reports of the reach of publications, but worth trying
3. Create a contest on social networks
Kontest : This tools enables community managers to lead their Facebook page or website, to feed a database, qualify new contacts, to better understand the target audience and monetize through organizing contests.
You can create promotional application to collect lead data, engage users and optimize the customer journey through the sale.Recommeded
PageYourself : offers a range of Facebook applications to host your page, from simple landing page to the game eventing. You can create an entire site within the social network to promote your business, offer discounts or promote your products.
In use, PageYourself is rather simple.To create your own page (or f-Site), just click on the dedicated button. This will take you a guide that accompanies the creation of your application.Thats it
So-Buzz : is an application platform to animate effectively a Facebook page or a Twitter account (PROS subscriptions). Apps for Instagram will be available soon. The agency also offers customized subscriptions, social media services and certification for partner agencies.
To access the features of So-Buzz, simply log on to the platform and attach Facebook account or Twitter account. If you connect your Facebook account, you can choose which pages to animate and group networking.
4. Bonus: Social Media Tools to Boost Your Productivity
NinjaOutreach - The perfect tool to help you with your content discovery to improve your content marketing. Find out which posts are getting shared the most and give yourself an idea of which topics you should be writing about.
Reach out to people who have shared a similar post and generate more exposure for your content after you hit the publish button.From prospecting to outreach, do it all within this tool and you are guaranteed to save time in your campaigns like never before.
IFTTT: IFTTT is a free online service that enables the automation of certain on-line actions through the use of its recipes. More than 220 online service that you can combine, and this tool is free.
IFTTT is providing all the tools you need, but you have to be creative and bring them together for effective results.
Zoho: It is great for tracking and analyzing your sales cycle. The custom workflows help manage processes, and the integration with other CRM apps like Zoho Campaigns, Zoho Survey, and Zoho Creator make this an all around winner for a small business
Zapier: effective IFTTT-like, designed for professionals.The ability to have different apps speaking to each other and sharing information is a great tool.
Since all have problem in time, Zapier saves time by sharing information between different applications.The ease of use for connecting apps you use is fool proof. This opens the world of integrations to novices.
Wedgies: Wedgies is a tool really well thought in the age of social networks. It allows to create a poll quickly, then share it. You can choose to sign up conventionally or using Facebook or Twitter.
In this way, Wedgies retrieves your name and profile photo to customize your surveys.
Obviously, users who wish to respond to your survey do not need to register. To create a poll with Wedgies, just write a question, choose a picture and possible responses. Questions are limited to 100 characters, the answers to 25 characters.
You can choose a picture from your PC, on the Internet, Dropbox, Facebook or Instagram. The tool even offers an image search engine that aggregates results from Google Images, Wikipedia and Flickr. If you wish, you can make the results of the survey established private as well.
SharedCount : to measure the share of a web page on almost all social networks.
SocialShare make it possible to analyze an entire site, and to be informed of the number of shares of recent posts.
You must specify the URL or group of Internet addresses to analyze to get the number of Likes, shares, and comments on Facebook, the number of tweets on Twitter, the number of +1 (Google+), the number of pins (Pinterest), the number of shares in LinkedIn. A great Tool to evaluate your presence in social media.
The interface is simple and allows you to view the tweet in question by passing the mouse over a photo. On Twipho, simply click on an image to access all relevant information: tweet, author, date, location ... And you can even respond to tweet or retweet .
EmojisTwitter : The emoji are part of the Internet language. These small signs sometimes possible to say more than words and are fun.
They are particularly easy to use on mobile, either iOS or Android: just use the keyboard dedicated to integrate to a message or tweet. On desktop, to incorporate a emoji to Twitter, it is necessary to use a dedicated tool or you can just copy and paste them.
Hyperlapse: an iOS app to create time-lapse videos for Instagram.
MyTopTweet: If you are an active user on Twitter with thousands of tweets, it is difficult to find out your most famous tweet; especially on Twitter. Use this tp discover your well performing tweets .
Tagboard : It is a perfect tool to track the use of a hashtag by users. Its dashboard combines the streams from 6 different networks: Twitter, Instagram, Facebook, Vine, Google+ .
The presentation allows to visualize tweets, statuses, photos, etc. Which were published with the hashtag. The URL of the search is shareable. It is a free and easy to use.
Gramfeed: An instagram tool that allows you to get :
Get Instagram photo feed on web
Check out the popular photos and tags on Instagram
Search for photos and people
view your follower's photo feed, post comments and like photos
Bit.ly: shorten a URL - and above all, get statistics (clicks, sources etc.).
Search in a Giphy: find a GIF easily to meet the users on social networks.Add GIPHY GIFs to your Gmail, Facebook, Twitter and more.
Clicktotweet : For those who make use of Twitter regularly, this is a great plugin to add your blog quotes to the Twitter conversation
Feedly: We believe, the best RSS reader.
Socedo : This tool provides critical business insights into your custom criteria and your engagement with your social leads.
You will be able to finetune your criteria and engagement workflow to get even higher quality leads over time.
It brings relevant social prospects into your sales pipeline and qualify social prospects via automated engagement.
Inkybee : Find out how I find market influencers in minutes using this amazing tool.
Inkybee has the suite of tools you need to go into client meetings well prepared with all the information your client might ever need about influencers in their sector
Pocket: excellent tool to save a web page and read later.